New Horizon Buildings and Concrete LLC designs and installs metal buildings and provides concrete services in Randleman, NC and the surrounding area. If you're in need of backyard storage buildings like garages, carports, barns, or other structures you can save money by installing a steel building. We also offer concrete services, as flooring for metal buildings or for driveways, patios, or other purposes. As a family-owned company, we pride ourselves on our excellent customer service and our ability to design a custom building that will last for years and save you money by buying from the manufacturer.
Metal Buildings by New Horizon come with Many Benefits
There are many options for garages and outbuildings on the market today. The advantages of installing metal buildings in NC homes include:
Affordability. A metal shelter is a great way to save money on your outbuilding project. New Horizon constructions can be installed for a fraction of the price of other structures. You can afford to protect your possessions or to build that workshop space you've always wanted. Financing is also available to help with the cost.
Fast Installation. Metal buildings can be installed in a very short period of time. You can expect rapid turn-around from design to completed product. When you need fast shelter for an upcoming picnic or a new vehicle you've just acquired, a metal building can go up quickly, providing you with the protection you need.
Increased security. Prevent break-ins, theft, or vandalism with an enclosed shelter for your vehicles and equipment. No matter where you live, extra security and protection is wise to keep your valuables safe.
Solid protection. You can count on the solid structure of these steel buildings. Protect your valuable assets from weather, including cars, boats, RVs, tractors, mowers, and other equipment.
Save money in a variety of ways. Besides the money you save on the shelter itself, by protecting your vehicles and equipment you save even more money. Extend the life of your assets by keeping them dry and protected from sun, heat, rain, snow, sleet, hail, and any other outdoor hazards.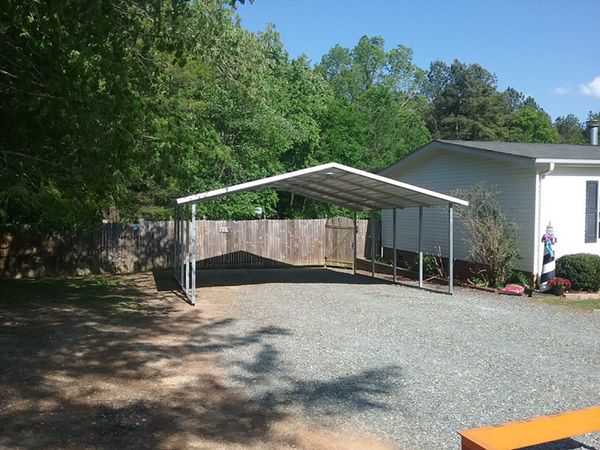 From Modest Beginnings to the Premier Company We Are Today
After starting out installing buildings and carports over twenty years ago our president was presented with the opportunity to achieve one of his lifelong dreams of becoming a business owner. He then started out on a journey to find installers that would provide the level of quality that he expects in every job done here at New Horizon Buildings. Over time everything fell into place and the business has grown to what it is now, with an extensive inventory of utility buildings for sale.
Our Promise to You is to Deliver Top Quality at an Affordable Price
Here at New Horizon Buildings and Concrete we are the manufacturer, which allows us to custom create your dream building. You get the building you want and can also get complete concrete services. We offer various concrete finishes including stamped, broom, or smooth. No job is too big or too small.  Quality customer service is always a top priority above all else to show our appreciation for you giving us the opportunity to earn your business.
New Horizon Buildings and Concrete Helps Our Customers in a Variety of Ways
The mission is to offer our customers a quality product that is also affordable. To accomplish this we offer financing so that you can divide the cost into affordable monthly payments. We offer custom options so that your building can be as small and simple or as large and elaborate as you wish. You will never have to pay for more than what you need. You tell us what you want, we listen, then make recommendations. We don't believe in one-size-fits-all.
Backyard Storage Buildings for Any and All Customers
We've helped all kinds of customers from homeowners to business owners including churches, daycares, and many others. Metal buildings are a great way for businesses to add space at a lower cost than structures made with other materials. Homeowners can quickly house a new RV, boat, riding mower, or other vehicle. Metal backyard storage buildings increase the value of your property without costing you as much. Pave or widen your driveway or increase your patio space with our concrete services. If you're looking for utility buildings for sale, call New Horizon at (336)799-1106.