Quality buildings are made with quality materials. Anything less is just not worth your money. At New Horizon Buildings and Concrete, only the best materials are used to create metal buildings for sale in NC. Whether you need a metal shed building, barn, garage, carport, or other shelter, you can be sure it will be built to last. Installing a storage structure on your home or property is an investment; something that will add value over time, so long as it is built well and installed properly.
The Resilient Properties of Steel
There are many reasons why steel is the metal of choice for sheds, shelters, outbuildings, and more.
Sturdy. Metal is tough and durable. It withstands weather of all kinds like rain, snow, sleet, hail, wind, and sun.
Economical. When compared to other materials like wood, brick, or stone, a steel building is a more affordable building material.
Doesn't rot like wood. Even treated wood can eventually deteriorate from exposure to moisture and weather. Metal holds up longer.
Pest resistant. Steel isn't susceptible to termites, wood bees, or other insects that can damage wood or other materials.
Handles extreme temperatures well. Extreme heat or cold will not affect a steel building. You won't experience shifting or settling due to temperature changes.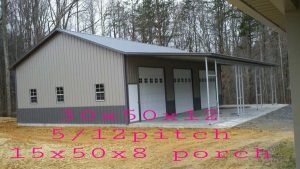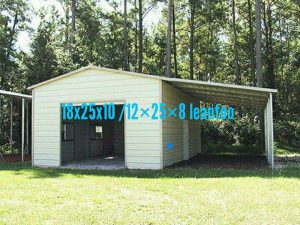 New Horizon manufactures metal buildings with only the highest quality steel. You can expect to get many years of use out of your metal shed building, barn, garage, carport, or other structure.
Concrete is Durable and Versatile
New Horizon recommends concrete floors for metal buildings as well as driveways, patios, porches, and more. Quality concrete has many benefits such as:
Durability. Concrete, once solidified, is very sturdy. It will hold up over time.
Affordability. Comparable to other materials in initial cost, concrete also saves you money over time because it requires very little maintenance.
Versatility. You can pour concrete to fit in any shape, allowing you to customize your driveway, patio, or floor.
Curb appeal. When guests or potential future homebuyers arrive at your home, a concrete driveway or path makes your home look more attractive.
Concrete Services and Metal Buildings for Sale in NC
If you are looking to install a new metal shed building or other structure, New Horizon offers custom options at affordable prices. All buildings are manufactured with top quality steel to protect your assets from the elements. If you need a concrete driveway, sidewalk, patio, or other solid surface, New Horizon makes sure it will last by prepping, pouring, and smoothing your concrete properly. Use the Customize Your Building Tool to design your own size, color, style, and more. Contact New Horizon for metal buildings for sale in NC: (336) 799-1106.