Metal Garages Have Many Benefits
Affordable. Steel buildings are an economical choice when compared to garages made from other materials. You'll spend less while still increasing your property value.
Quick installation. Metal buildings can be installed in a fraction of the time of other garage storage buildings. Less preparation is necessary and the entire process is shorter than with most construction projects.
Sturdy. Steel is strong and resilient. It is resistant to rust, pests, decay, and weather. Whatever you store inside will be safe and sound.
Versatile. Metal garages can be used for many different purposes from housing vehicles to storing tools. It can serve as a workshop or even a commercial garage for businesses. The possibilities are numerous.
Increased security. Protect your valuable possessions from weather damage as well as theft and vandalism. You can rest easy knowing your items are secure.
Other options and features can be customized as well to create a garage building that matches the look you want for this important addition to your property. Try out the online customizing tool to design your own garage. Experiment with different colors and styles until you find just the look you want. Then New Horizon can build and install it.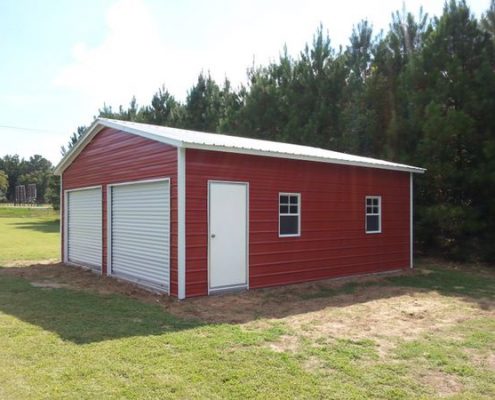 Customizable Garage Buildings for Sale
Purchasing a building from New Horizon allows you to fully customize your product. A garage will be designed just for you. Options include:
Size. The dimensions of your garage can be made to fit your specifications regarding height, width, and depth.
Color. Choose from an expansive pallet of color options for exterior and interior walls, roof, and trim.
Number and Style of Doors. Your garage can be designed with as many roll-up and walk-in doors as you need. Automatic doors are also available.
Flooring. A concrete floor is affordable and durable. It can be poured to fit any size garage and can extend beyond the dimensions of the garage for easy drive-in or extra parking.
Request a Free Quote for Garage Building and Installation
If you're looking for a garage building for sale, request a free quote from New Horizon. You can find out about pricing, design, size, features, and more with no commitment. Fill out a request online or call (336) 799-1106.