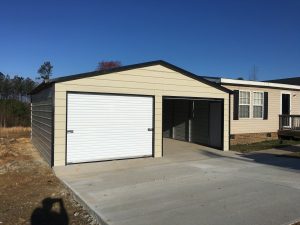 Have you been wondering if a metal garage would be a worthwhile addition to your home? Whether attached to detached, a metal garage is a versatile space that can be used for a variety of storage purposes. If you're looking for a garage building for sale in NC, here are the 10 things you can store inside.
The cars you drive regularly
There are many benefits to parking your car in a garage. Keeping your car out of the weather means it won't get too hot in the sun and you won't have to scrape ice off the windshield on cold mornings before work. It also protects the condition of your car's body and tires.
Classic/Hobby cars
Do you have a special car you keep as a hobby and only drive it on special occasions? Keep your classic car beautiful by parking it safely in a garage out of the elements.
Motorcycles
Motorcycles can be kept in better shape inside a garage. Motorcycles often have leather seats and other parts that would be better protected when kept in a dry place. A metal garage also provides extra security.
RV/Campers
The condition of your RV or camper is best preserved under a roof, especially those with canvas parts. The roof and tires should be kept dry, and a garage protects from pests.
Boats
While boats are made for water, they are still better preserved when stored in a garage. The boat trailer and tires on it will also remain in better condition when stored out of the moisture and effects of the weather.
Lawn maintenance equipment
Mowers, weed eaters, blowers, edgers, hedge trimmers, and more can all be stored in your metal garage to be kept dry and secure when not in use, especially during the cold weather months.
Tools
Whether you have a basic toolbox or you're more of a Bob Vila, secure storage will ensure they are safe and well maintained.
Camping Gear
Some, but not all of your camping gear can be stored in your metal garage. Anything that is designed to withstand the outdoors, such as coolers, outdoor cooking equipment, tarps, etc. are ok to store in your garage when not in use. Just be sure never to store food, sleeping bags, candles, matches, or wood inside your metal garage.
Bicycles/Scooters.
You can store riding equipment for the whole family in your garage including bikes, scooters, tricycles, skateboards, rollerblades, and more.
Sporting Equipment
A metal garage is a great place to store your balls, bats, gloves, skis, snowboards, sleds, pool toys, and any other sporting equipment that is safe to store at any temperature (in case your metal garage is not climate controlled).
Looking for a Garage Building for sale in NC? Try New Horizon Buildings and Concrete
Now that you see the many things you can store in a metal garage, the versatility and worth of such an addition to your home or property is obvious. Whether you need a dry space to store your tools or a closed-in space to shelter a vehicle, a metal garage is a fast, affordable option. Find a garage building for sale in NC at New Horizon Buildings and Concrete. Call (336) 799-1106 today to inquire about options and pricing.
https://newhorizonbuildings.com/wp-content/uploads/2018/12/nh-site-logo-1a.png
0
0
New Horizon
https://newhorizonbuildings.com/wp-content/uploads/2018/12/nh-site-logo-1a.png
New Horizon
2019-11-14 16:55:49
2019-11-14 16:55:49
10 Things you can Store in your Metal Garage